The Best Manchester Kids Clubs and Activities
Looking for The Best Manchester Kids Clubs and Activities? Here at Club Hub we have put together our highly recommend list of amazing Manchester Kids Clubs and Activities to get in touch with. There is a huge range of ideas and fun things to do.
Hi, I'm Natalie and I run diddi dance South Manchester, we specialise in classes, parties and nursery sessions.
Here at diddi dance we enhance children's endless energy and enthusiasm through funky, full of fun sessions that build confidence, co-ordination and creativity.
Classes are aimed at 2 – 4 year old boys and girls (although we have little ones from 18 months upwards joining us, as every child is different).
We explore 16 different dance styles and have a different theme each half term, from Hip Hop to Bollywood, Flamenco to Disco.
It's all set to original diddi dance music, grown ups jump up and join in too (good way to squeeze your exercise in for the day!) and we use lots of fun props towards the end of the class aswell.
Classes are held throughout the week in and around the South Manchester area, we offer Nursery sessions aswell and we are also available for Party bookings.
Website:-www.diddidance.com/diddi-dance-south-manchester/
Email:- [email protected]diddidance.com
Facebook:-www.facebook.com/diddidanceManchester
Instagram:-www.instagram.com/diddidancesouthmanchester/
---
Puddle Ducks Greater Manchester – Manchester Kids Clubs and Activities
At Puddle Ducks Greater Manchester we're very proud to be the only swim school to provide a complete swimming journey from the very start of life as a bump in our Aqua Natal classes through to swimming classes from birth to pre-school age and Swim Academy classes for primary school children.
Our fun-filled programmes are designed by leading baby and child swimming experts and are held at pools across Greater Manchester including Trafford, Stockport, Manchester, Oldham & Tameside, including our own purpose-built hydro pool – Aqua Nurture.
Whether your child is coming from a toddler swimming class, or has never been in the water before, all of our classes are full of fun-filled activities that are tailored to suit your child's age and confidence, including songs, rhymes, games and other water activities, all without the use of buoyancy aids.
Each of our classes are taught by our own Puddle Ducks teachers who are super passionate about what they do and are highly trained and qualified.
We want every child to love swimming, respect the water and swim beautifully. That's why our standards are the highest and our approach is unique.
Start your Puddle Ducks Journey with us today:0161 883 0222
Email: [email protected]
Website: www.puddleducks.com/manchester
---
Baby Sensory Manchester
Babies learn and develop more in the first year of their life than at any other time. Our award winning Baby Sensory classes introduce you and your baby to a whole range of colourful, fascinating and sensory rich activities.
Every week is a new and exciting experience, with unique themes and a wide variety of props and resources to provide stimulating learning experience's for babies. At Baby Sensory our learning and development classes are designed for babies from birth to 13 months and are backed up by over 35 years of research and expertise from Dr Lin Day, every activity is tried and tested to ensure we are providing an all round learning and sensory experience for babies.
We work with babies natural play rest play cycle combining structured sensory activities led by our highly trained class leaders with free play time in our exploratory play area. This structure and routine in our classes prevents babies from becoming over stimulated and helps babies become confident and secure in our classes.
If you would like to find out more or book a place at Baby Sensory you can visit our website at; www.babysensory.com/manchester/
---
Active Me Studios Manchester
Active Me Studios provides Dance, Gymnastics and KickBoxing Classes for all ages in our uplifting and inclusive studio. Offering Performance and Competitive teams in a variety of Dance Styles and regular KickBoxing Belt Gradings.
Contact us today for a FREE Trial Class!
Website: www.activemestudios.com
Facebook: www.facebook.com/activemestudiosgorton
---
Toddler Sense Manchester
It's time for Toddler Sense. A place where structured play goes hand in hand with imagination, creativity and the freedom to explore!
Each week has a unique theme, creating a whole new world of magical delights. Imagine zooming through space, partying like pirates or scuba diving in a magical sea.
The programme is founded on decades of scientific research and its structure will help prepare your child for school.
Classes are suitable for toddlers from 13 months to 4 years and include: a large variety of soft play equipment, inflatable fun (bouncy castles), gym equipment (trestles, balancing beams, stepping stones etc…) and a wonderful array of props and resources. Get ready to go on a wonderful adventure and have fun with Tod.
If you want to find out more information or book a place on our Toddler Sense class visit our website at; www.toddlersense.com/manchestercentral/
---
Mess Around North Manchester
Large scale messy play events for all the family with a party atmosphere. We plan and set up our events to fuel your child's senses and spark their imaginations. Watch and join in their delight as they explore, play, discover & have lots of messy fun.
Always a minimum of 13 activities with snow storm finale
A full hour of unled messy play
New themes & activities every month
Supports child development
Loyalty card scheme
Chance to win a free ticket after every event
Suitable for ages 6 months (or sitting unaided) to 5 years, and older siblings up to age 10, who can enjoy themed activities in the big kids create and make area.
Events are regularly held in Haslingden, Heywood, Radcliffe, Bolton and Worsley. Perfect activity for meet ups, play dates, or a family day out. So, come along and Mess Around and leave the cleaning up to us.
Did you know?? We also host bespoke birthday parties, private/corporate events and nursery & school sessions. Our packages are individually planned and tailored to your requirements.
Find out more and book your place
Website: www.messarounduk.com/northmanchester/
Email: [email protected]
Facebook: www.facebook.com/MessAroundNorthManchester
Twitter: www.twitter.com/MessAroundNMan
Instagram: www.instagram.com/messaround_northmanchester
---
Little Learners  Manchester
Little Learners classes are a unique and fun approach to developing early writing skills! We explore and make marks in foam, gloop, sand, paint, play-dough and much more!
Classes are suitable for children aged from 5 months to 5 years old. Children are encouraged to mark make in a stimulating, calm and welcoming environment. Each child has their own photo folder to show their learning journey and hold some super messy memories!
Multi-Award winning Little Learners is the country's leading Messy Play company!
Classes are booked in 6 week blocks and now and then there are drop in spaces available. Across North Manchester there are weekly classes in both Leigh and Worsley
Website: www.littlelearnersuk.com/franchise/manchester-north/
---
ComputerXplorers Manchester
Part of the very successful franchise, ComputerXplorers Manchester works with children and young people in primary schools, pre-schools and every venue imaginable across all parts of Manchester, Salford, Oldham, Rochdale, Stockport and Macclesfield.
Our clubs are the optimum blend of fun and education designed to capture the imagination, spark a child's creativity and prepare them for a technology-driven future.
Our topics cover everything from programming and coding, the innovative application of IT, animation, creative digital skills, game design, robotics and physical computing;
We use the latest software and peripherals
Our clubs promote social interaction and practical learning
All our topics are aligned with the UK Curriculum guidelines
We enhance essential Science, Technology, Engineering and Maths skills (STEM)
Our teachers are DBS-enhanced
We encourage children to use their imagination and explore the possibilities
We are very flexible and hold our clubs in different child-safe venues including church halls, scout huts and community halls to name a few. Children learn two or more fun topics per day, take breaks for physical activity such as dodge ball and tag, and at end the day they are energised and are wanting to learn more.
Fun online Zoom sessions
Our clubs are also available online for children who prefer to learn from our library of courses in small groups. Our experienced online tutors encourage children to interact during the sessions, ensuring the sessions are as fun and engaging as possible.
Contact us today and prepare your child for a future in technology.
Website: www.manchester.computerxplorers.co.uk/classes/one-to-one
---
Gymnastics Manchester
City of Manchester Institute of Gymnastics delivers energising and exciting children's gymnastics classes in our state of the art centre in Gorton, Manchester.
As one of the largest indoor gymnastics centres we have lots of space for children aged 4 years and over to experience the thrill of tumbling, bouncing, and somersaulting on our top quality gymnastics equipment. With classes for all levels of ability we welcome beginners and more experienced children to master gymnastics skills under the watchful guidance of our expert, fully qualified and experienced coaches.
We have a 50 year history of delivering top quality structured recreation gymnastics, structured to enable fun progression for all, and have produced many top international successes, Olympians and British and Commonwealth Champions.
The starting point is our beginner level (Foundation)
– classes available 7 days a week
– minimum 1 hour weekly class in 9 week block
– structured to develop floor, rebound, gymnastics and vaulting skills
– children develop at own pace
– excellent confidence building
– friendly environment and full of challenge
– always led by experienced and expert coaching team
We are located just a few minutes from M60, junction 24 – next to the large Tesco superstore, library and Gorton market. Plenty of parking available.
Contact us for more information or to request a place in a class.
0161 223 5705
Email: [email protected]
Website: www.cmig.uk
Facebook: Facebook.com/CMIGymnastics
Instagram: Instagram.com/cityofmanchestergymnastics
---
Noodle Performance Arts Cheshire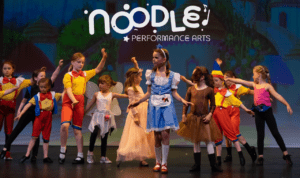 At Noodle Performance Arts, we are passionate about performing arts and dance and we want the children who come to our classes and workshops to love them as much as we do. Children learn best when they are enjoying themselves so the focus of all our sessions is to have fun.
As well as teaching singing, dancing and drama, Noodle classes help your child develop valuable life skills, build their confidence and boost their self-esteem. Children also have the opportunity to take part in performances including our annual shows and external events
Unlike some other performing arts and dance classes, we don't ask our children to wear a uniform or take nerve-wracking exams. Instead, the focus is on having fun, making friends and discovering new talents.
Professional performers lead our street dance, ballet and Performing Arts classes as well as holiday workshops and library sessions across the region.
All children are welcome to a free taster sessions in as many classes as they wish to try out and if they are shy, bring a friend! We offer a refer a friend scheme too with a free session for each friend that signs up for the half term.
With classes currently in Altrincham, Northwich and Wilmslow there is some thing for everyone! Visit www.noodleperformancearts.com/cheshire-class-timetable/ to find out what Noodle classes are available near you!
We also offer fantastic themed character parties, both face to face & online – choose from your child's favourite Princess, Superhero, pirate, showman plus Star Wars, Harry Potter and many more! Get in touch to see how we can make your little one's big day extra special.
Facebook: www.facebook.com/NoodleCheshire
Instagram: www.instagram/NoodleCheshire
Twitter: www.twitter.com/NoodleCheshire
---
We hope you have enjoyed our Manchester Kids Clubs and Activities article.
Looking for more of The Best Manchester Kids Clubs and Activities?
Discover what's near you now on our app or website www.clubhubuk.co.uk