The Best Autumn Activities for Kids – Nature Activities
Is your child interested in nature? Would they like to join a local Nature Kids Club? Here at Club Hub, our directory is filled with thousands of Nature Activities, so we have spoken to a few providers to tell us a bit more about some Autumn Activities for Kids.
Why not get outside this Autumn and create some Land Art? – Autumn Activities for Kids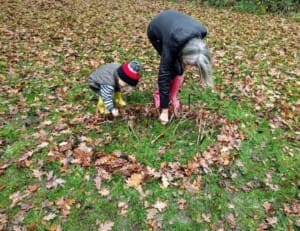 Land Art is a fun activity to do in nature, it is spontaneous, FREE and is a perfect learning and development opportunity for early years too!
Land Art involves creating art on the Earth. Use sticks, stones, leaves, mud and more to create fabulous pictures with your little ones, in your own garden or when out and about. Autumn is a great time to do this thanks to the abundance of natural items falling to the ground.
Why not try creating a picture of your favourite animal (such as our Hedgehog here) from sticks and leaves?
Who can build the biggest stick/stone pile? (Be careful!)
Or can you create a face from mud, sticks and leaves?
Tag us on Instagram (@NatureMakers) in your original Land Art pictures for a chance to win a set of Eco friendly crayons!
Nature Makers®
Nature Makers® helps families with young children to connect with nature, without parents having to be experts themselves, by providing nature inspired Art & Craft classes, parties and events using Eco-friendly and Vegan products, so that families can raise their children to have an appreciation of our precious Planet.
One class mum said "My 2 year old is consistently engaged with all the varied activities each week at Nature Makers®. Absolutely love that the class is so Eco conscious and responsible, it's absolutely the sort of thing I want to instil in my little boy!"
To join in with our educational nature art classes then visit our website and book today: www.nature-makers.co.uk
No classes in your area? Fancy being your own boss but with the support of a company that aligns to your values? Email to find out about our fantastic Franchise Package – [email protected] 
---
Get in the seasonal spirit by making a fun and colourful pumpkin sculpture inspired by Yayoi Kusama – the Conservatoire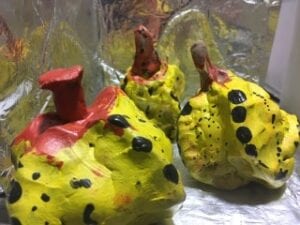 Yayoi Kusama is a Japanese artist, now 91 years old, who works in sculpture and installation, painting, performance and other arts, and who loves polka dots!
First let's start by making the dough:
You could make this out of clay or salt dough.
You will need: 
1 cup salt
2 cups flour
1 tablespoon cooking oil
1 cup water
Bowl
Spoons
Powder paint or vegetable dye or food colouring (or paint it afterwards)
Making your pumpkin – Autumn Activities for Kids
Mix powder paint or vegetable dye or food colouring with the flour and salt.
Add oil and water.
Knead dough. It will last a few days or so if kept in a fridge and should have a consistency similar to shop bought dough.
Split your dough or clay in half. Make one half into a sphere by rolling it gently round and round in your hands. Use the rest of the clay or dough to make about 5 sausages.
Place the end one of one of the sausages on the sphere and wrap it around to the opposite side. These will make the segments of the pumpkin. Use your fingers to smooth the sides of the sausage on to the ball so they join properly and prevent it falling off when dry.
Add as many of these as you want until you are pleased with your pumpkin shape. Don't forget to add the stalk!
Paint it in ready mix paint or acrylics.
Use a cotton bud or the base of a pencil to add dots.  Feel free to vary the colour and size,
You could look at some of Kusama's work online and create an 'infinity space' in which the pumpkin can be placed, using silver foil or any reflective surface.
About the Conservatoire
The Conservatoire is located in the heart of Blackheath village and provides the highest quality and welcoming tuition for all ages. All tutors are highly qualified working professionals offering the widest range of individual and group tuition in art, music and drama locally. Our baby classes in art and music begin at 6 months and drama at 18 months. The extensive programme is designed to grow with learners as they gain skills and experience. Classes on offer range from children's painting, drawing and mixed media to programmes such as Roundabout and Play! which introduce children to different instruments and then help them progress on their chosen one before beginning individual tuition.
We also offer a fantastic holiday programme. Tuition takes place in the historic buildings, part of London's oldest purpose-built arts complex, including a stunning Victorian art studio and online options are also available. The Conservatoire was founded by locals nearly 140 years ago and has remained a cornerstone of the community; inspiring and nurturing creativity ever since. Past alumni include Kate Bush, Gary Oldman and Daniel Day Lewis but you don't need to be an Oscar winner to benefit!
Check us out – www.conservatoire.org.uk
Find out about new classes and events first! – www.conservatoire.org.uk/newsletter
Facebook: www.facebook.com/TheConservatoire/
Instagram: www.instagram.com/blackheathconservatoire/
Twitter: www.twitter.com/ConservatoireSE
---
We hope you enjoyed reading about these amazing Autumn Activities for Kids. Search for Nature Activities Near Me on the Club Hub Website or App Now!