The Best Sensory Classes for Babies – Club Hub's Top 10
Looking for baby sensory classes for babies? Here at Club Hub, our directory is filled with thousands of sensory classes for babies and toddlers, so we have spoken to a few providers to tell us a bit more about their businesses and their activities for babies.
Adventure Babies – Sensory Classes for Babies Across the UK
Adventure Babies offer multi award-winning, sensory storytelling classes where they bring brilliant books to life with incredible handmade sensory props. These adventures help your baby or toddler to fall in love with books & reading whilst also supporting their crucial early all-round development during highly interactive and great fun adventures.
The reason we think Adventure Babies are such a great class for babies and toddlers is that they have a very creative and knowledgeable team of Early Years professionals creating & planning amazing activities and equipment. Adventure Babies have always used extremely high-quality sensory equipment and have such imaginative activities in their classes to support your baby or toddler in their development. This is why it is so original, and so much fun for parents and their children.
Each activity planned, whatever your child's age, is linked to the Early Years Framework for their stage of development to support either speech & language development, sensory development, physical development or social and emotional development. This means that you can be assured that you are supporting your baby in the best way possible.
When you arrive at an Adventure Babies class you will be welcomed by friendly, knowledgeable professionals who lead each of the classes and make sure that everybody feels part of the lively, friendly community of parents and their children.
Adventure Babies are so well regarded that they were asked to collaborate with The Natural History Museum in London to create a series of 12 original Adventure Babies books, with a focus on the natural world, which are now performed as adventures at the museum.
Adventure Babies have classes nationwide available to book online here www.adventurebabies.co.uk
Adventure Babies books and sensory storytelling bags here www.adventurebabies.co.uk/shop
Adventure Babies offer franchise opportunities in some areas contact [email protected] for more information
---
CREATORS OF BEAUTIFUL SENSORY BABY CLASSES SINCE 2003 – Hartbeeps 
Welcome to multi award winning Hartbeeps, delivering specialist immersive sensory classes suitable from birth, for nearly two decades. We are so proud and honoured to be working in our early years' communities up and down the country making memories magic for families with young children.
But don't just take it from us, hear from our most important families:
'Hartbeeps deliver outstanding sensory classes creating stimulating, colourful, musical wonderlands for babies, they are the very best class we have attended' …

'Hartbeeps sensory classes use the most original colourful props and music, capturing precious moments and nurturing young imaginations'…

'Hartbeeps is very professionally and enthusiastically run. It's a great introduction to music and movement for little ones. I really love the unusual use of lights and fragrance, which helps to make the experience captivating and magical'…

'My 14-month-old son has attended Hartbeeps since the age of 5 months; he has just moved up from Baby Beeps to Happy House and has always loved it. It introduces babies to concepts, colours, senses, music and more, and the babies all seem fascinated and entranced'…
Come and visit us soon and get ready to journey down the rabbit hole and join your little one in the world of the imagination.
Find a class designed just for your little one, suitable from birth.
See you soon @ Hartbeeps – www.hartbeeps.com
Welcome to the World Baby Course – suitable from birth to 12 weeks (approximately)
Baby Bells Classes – suitable from 8 weeks (younger babies very welcome)
Baby 

Beeps

 Classes – suitable from 7 months (approximately – for babies that are sitting unaided)
Happy House – suitable for toddlers (younger siblings very welcome
---
A warm welcome awaits you at Music Bugs
Sensory, play-based music and singing classes for children from birth to 5 years of age. Our classes encourage children to develop, grow and explore the world around them through music and song, all within a creative, colourful and sensory environment.
Each week brings a brand new session plan with an exciting selection of props and activities to ensure your little one remains engaged every single week.
The following session types are available;
Baby Bugs (0 – crawling/walking)
Mini Bugs ( 6- 24 months)
Jumping Bugs (1.5 – 4 years)
Family Bugs (mixed age range)
In our Baby Bugs classes, our sensory time activities allow babies to explore different textures and sounds and enjoy a new multi-sensory environment every week. These classes also allow new parents to connect with one another and benefit from the social support of other new parents.
Our 40 – minute sessions are packed full of opportunities for your child to explore and develop at a pace they feel comfortable with. Expect bubbles, role play, counting songs, themed activities, puppets, percussion, parachute games, silly songs, sensory activities and much, much more.
Your child will thrive during the classes as they make new friends, develop new skills and become more confident with every passing week.
Music Bugs are also the founders and organisers of World Nursery Rhyme Week, a global initiative which promotes the importance of rhymes in early childhood, particularly the development of crucial language and communication skills.
Music Bugs Website: www.musicbugs.co.uk
World Nursery Rhyme Week Website: www.worldnurseryrhymeweek.com
---
Mess Around – Sensory Classes for Babies Across the UK
At Mess Around, you will find fragrant fun, gloopy glee and mucky mayhem! We are all about providing children with the opportunity to get messy and explore exciting new sensory activities. With lots of fun experiences to explore, including our famous painting wall and snow finale, your little ones can squelch, pour, mix, and get messy to their hearts content. Our events are run throughout the UK by our wonderful, dedicated franchise leaders, bringing children larger-than-life unique messy fun.
Mess Around UK is the only provider of LARGE messy play in the UK. Our team of franchise leaders deliver events, children's birthday parties and private bookings and we pride ourselves on providing high quality sessions and value for money. 
We are an entertainment brand with a sole focus on providing family fun, creating memories, and bringing families together. 
We know how important Messy Play is for your child's development but we also understand that setting up a messy play activity and then cleaning it all down again afterwards whilst trying to clean and entertain your little one is not everyone's idea of fun! That's why at Mess Around we do it all for you – you will find between 12-14 different messy activities which are definitely going to keep your mess maker occupied for the hours session, and then you can leave all the cleaning up to us a total win win situation!
Head over to www.messarounduk.com to find your local leader and get booked on one of our amazingly messy sessions today!
---
Sensory Baby Classes at Gymboree Play & Music
Sensory baby classes are so important for a baby's development. In those precious first few months, organised sensory activities can be truly transformative, both for baby and carer. But the great thing is, each little one can attend right from birth!  There are a wide range of activities that can be included in sensory classes, providing experiences and environments to engage sight, hearing, touch, smell and taste in the early weeks and months.
In our classes your little one will hear music, voices, instruments, and other babies cooing.  They'll be able to feel various soft and hard surfaces including our patented equipment, comfy mats, fabric scarves and our famous parachute, as well as huggable Gymbo.  Our centres are full of colour so your little one will begin to distinguish between the various colours, see light and dark, as well as their own reflection.  Inevitably toys will end up in their mouths as they use taste to identify objects. (Mouthed toys are thoroughly cleaned between every session!).  And finally, occasionally we might introduce specific smells as part of a class, but of course there's always ambient smell!
Plus, there are so many more benefits of attending sensory classes too. In the class environment, their whole physical, cognitive and social skills will begin to develop.  This includes starting to develop co-ordination and motor skills. And little ones also develop awareness of themselves and others and begin to make sense of the world. Plus, for parents and carers, it is a place to learn new techniques to calm baby and foster sleeping patterns.
Sensory Baby Classes at Gymboree Play & Music include:
N.B. Not all centres offer all types of classes.
Website: https://gymbo.co.uk/sensory-baby-classes-near-me/
---
Sensory Development through Music
Rhythm Time is one of the UK's leading and longest established providers of multi-sensory and developmental music classes for babies and young children under five. We are also proud to be founding members of the Children's Activities Association.
Our passion is music and its ability to stimulate every part of a young child's brain.  In their first few months, your baby's main neural pathways are formed in their brain and it will double in size. So this is the perfect time to help stimulate all their senses with our fun, multi-sensory, musical activities – our unique set of courses have been written by a music teacher and specifically created for early sensory development, starting from birth.
Young Baby & Older Baby Classes (birth to 14 months) 
We'll show you lots of special bonding and development activities that help to stimulate baby's vision and hearing, promote deeper sleep, improve muscle tone, flexibility and circulation, and introduce them to 'tummy time'. Our progressive classes will also include multi-sensory activities that stimulate listening, sense of touch, balance, development of the inner ear, speech, language and small motor movements.  We use fun songs, percussion instruments and equipment (balls, mirrors, scarves, lycra, sensory blankets, lights, windmills, foil and bubbles amongst others) that are loved by babies and adults alike!
What are the benefits? 
As well as multi-sensory development right from birth, our progressive classes go on to provide little ones with a perfect foundation for school by developing their confidence, creativity, listening skills, language, numeracy and co-ordination.  Little ones feel secure in our classes and genuinely enjoy the activities without realising that they're actually learning!  Adults also love our relaxed and friendly classes and often form lifelong friendships along the way. 
To find your local Rhythm Time fun, multi-sensory class, visit https://rhythmtime.net/find-a-class/ 
Do you love to sing? Fantastic Franchise opportunities are available in some areas – for more information visit https://www.rhythmtimefranchise.co.uk/enquire-now/
---
Mini Monkey Gym – Sensory Classes for Babies acrosss the UK
At Mini Monkey Gym we know that during the first year of a babies' life brain cells are busy making millions of connections. These neural connections peak at about one year and are eliminated if they are not used. So most importantly the connections that babies regularly use are the ones they keep. With this in mind, we need to offer babies as many activities and opportunities to move and explore their environment as we can. A parent plays a large role in this as parent/carer and baby interaction is one of the most important factors in a babies' development and can dictate the amount of movement experiences they are exposed to.
At Mini Monkey Gym UK we strive to support parents to feel confident in their knowledge about their baby's brain and development. We provide developmentally appropriate gym, musical and sensory activities in our Baby Monkey classes for 0-10 mths, and Little Monkey classes for 6-18 mths, that support a babies' growing development, in a safe and nurturing environment. We use a variety of soft gym equipment, movement exercises, colourful sensory props and lots of musical activities with songs and rhymes. We focus on a variety of physical skills and movements that increase those all important neural connections and build babies' brain – boosting brain power from birth!
We are so proud to be supporting parents across the UK with our specially designed baby and toddler gym and sensory programme for 0-5's.
Penny Holbrook
Early Years Practitioner and Founder of Mini Monkey Gym and Mini Monkey Yoga UK
Find out more about our 0-5's educational Gym and Sensory programme.
Website: www.minimonkeygym.co.uk 
Facebook: www.facebook.com/minimonkeygymhq
---
Baby Sparks Sensory – Sensory Classes for Babies in the East Midlands
Baby Sparks Sensory are the leading providers of baby and toddler sensory classes in the East Midlands. Our classes are designed to stimulate, engage, nurture, and relax your little one through singing, parachute play, instruments, sensory lights and bubbles. We deliver the perfect class to nurture your baby's sensory development.
We have 3 levels to our classes:
Our Little Sparks classes (6 weeks – 6 months) and are designed to focus on the 4th trimester experiences. We encourage visual exploration with props, core muscle strengthening and gentle movement to develop balance.
Our Spark Shakers classes (6 – 13 months) allow sensory exploration that develops the important fine and gross motor skills which support sitting unaided and crawling. We have lots of sensory fun with music, lights and playing with instruments.
Our Spark Movers classes (8 -36 months) provide an engaging and stimulating environment which encourages self-exploration and movement. This class aims to develop key motor/co-ordination skills whilst continuing to nurture and relax. Our activities encourage children to socially interact, negotiate and build on early language skills.
Our classes follow a different weekly theme and includes Makaton Signing to aid communication. All of our class leaders are qualified teachers and are trained in Early Years and sensory provision.
We know our baby and toddler classes are great but don't just take our word for it! Here is a testimonial from a current customer:
"As a first time mum, Baby Sparks helped me gain confidence and knowledge in understanding how my baby was developing and what I could do to support them. In a room full of friendly like-minded parents, the hour we spent at Baby Sparks became some of our most special quality 1:1 time" (Vicky with baby Francesca)
We hope to welcome you and your little ones soon!
Website: www.babysparks.co.uk
Email: [email protected]
---
The Little Sensory Co – Sensory Classes for Babies Across the UK
The Little Sensory Co offers a variety of sessions for children from newborn through to five years of age across the UK & Ireland; with over 40 leaders delivering Baby Massage, Baby Yoga, Messy Play, Sensory Sessions and most recently outdoor Nature Classes.
Sensory activities naturally encourage children to create, investigate and explore the world around them. Children learn best and retain the most information when they engage their senses. Many of our favourite memories are associated with one or more of our senses. By giving children the opportunity to investigate materials with no preconceived knowledge, you're helping them to develop their cognitive and creative abilities.
Visit the link below to find a class near you; https://thelittlesensory.co/find-a-class-near-you/
---
The Baby Cloud – Sensory Classes for Babies in Kent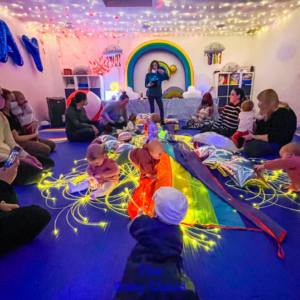 The Baby Cloud classes are specialist in baby development & sensory play. With 8 years of knowledge poured in to the experiences they share, their ethos to support you through the first year with your new baby…  One of the best parts is you get to continue your learning journey every day at home, as you access a HUGE Sensory Academy Kit which yours to keep!
In class you and your baby will benefit from…
Absorbing rich & wonderful sensory experiences 
Using the power of touch and movement
Learning to play together & bonding
Sharing the amazing science behind baby's development 
Supporting towards each milestone 
Mood matching through mini mediations 
Creating a village & support network for new parents 
The warmth, inclusivity and personal touch is second to none at this class. They have a focus on parental wellbeing as well as baby.
You can join classes from the day your little bundle arrives, with their tailor-made age sessions:
New Baby classes – Birth to 14 weeks
Sensory Academy classes – 8 weeks to 7 months
Sensory Academy classes – 6 to 13 months
We use hundreds of simple tricks and tools, instruments, baby yoga, massage, music, visual props etc right through to amazing & unique parachutes, bubbles, displays & lights to create magic each week in classes. Our 1 year programme offers something different each week.
One extra special feature we use is our immersive projector, taking you and baby on a journey under the sea, to watch the fireworks, to bring you a cosy fire in the winter and lots more. 
Backed by years of experience in sensory development, you can enjoy all the most inspiring multi-sensory experiences, alongside the best bits of our research.  It really is next level!
You will be welcomed with open arms from your first visit.  
Their bespoke space is in Gravesend, Kent. Just off the A2. With further franchises commencing Sept 2022.
Find us at www.the-baby-cloud.co.uk or Click here to run your own Baby Cloud!
And on Insta @ https://www.instagram.com/thebabycloudkent/ or @thebabycloudkent
---
We hope you enjoyed reading about all the "The Best Sensory Classes for Babies". Search for more sensory classes for babies on the Club Hub Website Now!