Club Hub Awards 2021
Saturday 18th of September 2021
Entry for the Club Hub Awards 2022 will open on the 1st of November 2022
Our Club Hub Awards 2021 Finalists
Family Business of the Year
Suzie Franck – Baby Sensory Sutton/Wimbledon, Toddler Sense Sutton

Neil Harrison – Big Science Entertainment UK

Ellie Baker – BilinguaSing

Chloe Williams – Little Wickets

Carly Eagles – Sports 4 Tots

Kim Weir – Stageskool theatre Arts Ltd
Biggest Growth of the Year
Suzie Franck – Baby Sensory Sutton/Wimbledon, Toddler Sense Sutton

Greg Wixted – Britain Loves Baking

Stephen Gruppetta – Codetoday

Laura Cross – Inventors & Makers

Liane Katz – MAMA.codes Ltd

Rachael Hurton – Synergy Dance Ltd
Non-Profit Business of the Year
James

Smith – Big Bold Youth CIC

Afric Crosssan Wale – Forest Schools Birmingham CIC

Davinia Khan – Fresh Arts C.I.C

Drea Lee – Marks Hall Estate

Claire Clements – Positively Empowered Kids

Rachael Hurton – Synergy Dance Ltd
Supplier of the Year
Layona Bungay – Artifex Designs

Kate Richardson – Avocado Events

Cerys Keneally – Ceryskeneally.com

Victoria Race – Dance School Safeguarding Services

Becky Hoare – Pop Up Play Village

Nigel Apperley – TRUSTist
Leader of the Year
Davinia Khan – Fresh Arts C.I.C

Amy Shone – Lets Act Drama School

Christina Taylor-Chisholm – Popolo Ceramico Ltd

Charlotte Olivares – Razzamataz Theatre Schools Maidstone

Rachael Hurton – Synergy Dance Ltd

Ben Babbington – ZKS
Start-Up of the Year
Sarah Yeubrey –  BPM Fitness Limited

Mukta Darera – Our Little Uni

Naomi Fisher – ROAM

Amara Lalemi-Jacobs – Sci4Us

Ashley Bates – The Shed School

Jessica Barnes – Tiny Toes Ballet Bridgend & Vale of Glamorgan
Male Entrepreneur of the Year
James

Smith – Big Bold Youth CIC

Neil Harrison

– Big Science Entertainment UK

Callum McGuire – Einstien's Entertainers

Andreas Alkiviades – Jo Jingles South Lincs Rutland and Peterborough

Hugo

Shephard –  Role Models

Ross Adams

– Small Screen Talent
Young Entrepreneur of the Year
Jennifer Holden and Samantha Shaw – Boss Acting School

Lea Henry – CocoRio Limited

Chloe Lee – Razzamataz Theatre Schools Chester

Amara Lalemi-Jacobs – Sci4Us

Katie Harcourt – Spellbound Academy of Dance

Alice Prior – Tiger Tots Messy Play
Female Entrepreneur of the Year
Suzie Franck – Baby Sensory Sutton/Wimbledon, Toddler Sense Sutton

Rachel Peebles – Estrellas Brillantes

Cristina West – Kidslingo Spanish Nuneaton & Hinckley

Liane Katz – MAMA.codes Ltd

Carly Eagles – Sports 4 Tots

Sarah Cressall – The Creation Station Ltd

Deborah Hart – TinyTalk Kent Downs
Digital Business of the Year
Kelly Smith – Boogie Monsters

Laura Cross – Inventors & Makers

Kay Pipe – Jungle Jiggle

Liane Katz – MAMA.codes Ltd

Mukta Darera – Our Little Uni

Helen Nurse – Wonder Adventures
Community Business of the Year
Afric Crosssan Wale – Forest Schools Birmingham CIC

Cressida Bullock – Fun Science

Sheena Amin – Kaishi Karate School

Claire Clements – Positively Empowered Kids

Charlotte Olivares – Razzamataz Theatre Schools Maidstone

Cate Blackmore – WestWay School of Performing Arts Ltd
Franchisee of the Year
Anna Coggan – Caterpillar Music Newark

Rachel Peebles – Estrellas Brillantes

Cristina West – Kidslingo Spanish Nuneaton & Hinckley

Lucy Huartson – Little City Chelmsford

Louise Matthews – Phonics Stars Bexley & Greenwich

Bianca Summers – Tiny Toes Ballet Staffordshire
Franchise of the Year
Anne-Marie Martin – diddi dance

Cressida Bullock – Fun Science

Anna Neville – Kidslingo

Mala Henry – La Jolie Ronde Languages For Children

Christina Taylor-Chisholm – Popolo Ceramico Ltd

Sarah Cressall – The Creation Station Ltd
Independent Business of the Year
James Smith – Big Bold Youth CIC

Kelly Smith – Boogie Monsters

Laura Cross – Inventors & Makers

Ross Adams – Small Screen Talent

Rachael Hurton – Synergy Dance Ltd

Rachel Kenning – Tot Bop
Lifetime Achievement Award
Amanda Frolich – Amanda's Action Club

Claire O'Connor – babyballet

Mala Henry – La Jolie Ronde Languages For Children

Sarah Cressall – The Creation Station Ltd

Becky Reynolds – The Signing Company

Victoria Ademosu – The Tutoress
Lockdown Achievement Award
Amber Leigh Mitchell – Abstract Dance & Performing Arts

Kamaljit Suman – Art at the Heart CIC

Laura Cross – Inventors & Makers

Anna Neville – Kidslingo

Mala Henry – La Jolie Ronde Languages For Children

Claire Clements – Positively Empowered Kids
Our Sponsors of 2020 and 2021
Family Business of the Year
Tumble Tots (UK) Ltd are delighted to be a headline sponsor of the Club Hub Event 2021 and the 'Family Business of the Year' category in the awards.
We value apps and websites such as Club Hub who help parents locate activities like ours and we are grateful to Tessa for creating this and the event which brings together other activity providers.
In 2019 we celebrated our 40 th anniversary which we are extremely proud of and look forward to another 40 years providing active classes for little ones
from six months to seven years old.
Our classes are designed to not only help with a child's physical development but to encourage their social skills and promote a positive attitude towards a healthy and happy lifestyle, giving them a head start in life.
Most importantly, Tumble Tots classes are fun! Not just for children, but for grown-ups who get to spend quality time with their little ones in classes and our franchisees who love their jobs. We currently have 67 franchisees across the UK and several opportunities to buy existing businesses or start new ones.
If you are looking for a Tumble Tots class near you or want to know more about running a franchise, please visit our website: www.tumbletots.com
Lifetime Achievement Award
"My name is Samantha Baldwin and I am the proud Founder and Director of Phonics Stars. Phonics Stars™ is an Educational and Interactive club which promotes active learning through play throughout the UK.
The lively classes are full of fun and provide regular opportunities for young children to gain a gentle introduction to phonics, develop those essential listening skills and build muscle strength.
I am really proud and excited to be a part of the amazing Club Hub event of 2019! Tessa has worked so very hard organising the event and we are so proud to be a part of it.
All of us at Phonics Stars™ are honoured to be sponsoring the Social Enterprise/Charity of the Year Award! We are extremely passionate about helping to make a difference to children, families and educational settings throughout the UK and this wonderful award connects deeply with our ethos.
This January we will be celebrating our 4th Birthday and we are now looking for more super-duper classes leaders to join us on our mission!
We have an excellent training and support system in place. All planning is provided and constantly developed. We listen to our class leaders and we will do everything we can to help them succeed and deliver fantastic classes to children. With the branches to the business growing, now is an exciting time to join. Find out more about our public classes, preschool and nursery classes, after school clubs, birthday parties and more income streams coming soon"
To find out if Phonics Stars classes are available in your area, please contact [email protected]
M: 07852278956
FB Bromley: www.facebook.com/www.phonicsstars.co.uk/
INST: instagram.com/p/BpEeTMuHzqu/
HQ UK FB PAGE: en-gb.facebook.com/phonicsstars
Do you run a children's activity class? Are you and your staff first aid trained?
The fabulous Daisy First Aid provide CPD accredited first aid certificates to those working with children from just £25
Daisy First Aid have friendly trainers all across the UK and work closely in supporting and collaborating with local businesses.
They also provide life saving classes to parents and grandparents in the comfort of their own homes.
Male Entrepreneur of the Year
I am delighted that Little Wickets is sponsoring the Club Hub 2021 Male Entrepreneur of the Year Award. I set up Little Wickets almost a decade ago so I know how hard starting, running & building a new business from scratch is, no matter how good the concept or product is or how well received it is. I look forward to someone, with the same grit and determination that I had to have, being rewarded for their efforts. It takes a lot of hard work, vision and time to succeed, which is why I am also delighted to be offering the right people the opportunity to build their own Little Wickets business success on the back of everything I have learned and built along the way, as we venture into expanding the Little Wickets Family across the UK.
Little Wickets offers Cricket Fun For Kids & Toddlers. Championing Teamwork, Fair Play and Fun. A fantastic way to nurture young Boys & Girls' physical, emotional & social skills.
More than just learning to bat, bowl and field, Little Wickets sows the seeds for a lifelong passion for sport. 'The Spirit of Cricket' is at the heart of everything we do & is delivered by our team of enthusiastic, vetted & experienced coaches.
Little Wickets offers regular weekly sessions, school clubs and curriculum sessions exclusively for the Early Years & Key Stage1 age groups as well as soft-ball holiday activities for pre-schoolers and Primary School aged kids.
Kids have so much fun joining in with the specially crafted warm-up games, skill based activities & soft ball cricket games (built on the 'FUNdamentals of Movement') that they don't even realise the positive life skills they are learning on the way.
Chloe Williams
Little Wickets Founder & Managing Director
Young Entrepreneur of the Year
Hi my name is Kristine Monaghan and I'm the proud Owner and Director of Mess Around Ltd. This September we are celebrating our 6th Birthday! We are a messy play franchise business and if you haven't been to one of our sessions across the UK we are about providing children the opportunity to get messy and explore exciting new sensory activities.
With lots of activities to explore, including our famous painting wall, the little ones can squelch, pour, mix and get messy to their hearts content. Our parties run throughout the UK by our wonderful, dedicated franchise leaders, bringing children larger-than-life unique messy fun!
Mess Around Ltd is absolutely delighted to be sponsoring the Club Hub Young Entrepreneur of the Year. Having worked with young people within in my career and supported young people within our network I'm very passionate about giving young people the opportunity to succeed.
I can't wait to meet all the finalists at the Club Hub Awards and hear all about their journeys.
Good luck from the Mess Around Team.
Krissy x
Female Entrepreneur of the Year
We are delighted to be sponsoring the "Female Entrepreneur of the Year" category at the Club Hub Event.
Here at Smart Raspberry we are committed to teaching children about the importance of being able to cook for themselves and others. At our cookery classes we learn about different ingredients, try new foods and develop skills for life. Our classes are friendly, relaxed and fun, attributes that make it a lot easier and faster for children to learn. Smart Raspberry has grown into a successful business, teaching hundreds of children each week through a family of franchisees.  Good luck to all the participants.
Alicia Cronin
Founder of Smart Raspberry Cookery School
Biggest Growth of the Year
Fun Fest is a rapidly expanding network of Ofsted registered holiday clubs which empowers children by giving them choice about how they spend their holidays. By choosing from a menu of exciting
activities every morning and afternoon, each child designs their own holiday programme.
With activity sessions such as Great Outdoors, Nerf Challenge, Sublime Slime, Beauty School, Cupcake Heaven, Animaltastic, Harry Potter Experience, Pottery, Mission Impossible, I'm A Kid Get Me Out Of Here, Football Camp, Jewellery Making and many more, there is something to appeal to every child.
We are always looking for exciting new opportunities and activities to offer the children in our care and enjoy partnerships with a number of children's activity providers who come and run sessions at
our network of clubs in the school holidays.
We believe that collaboration and partnerships between us work well to raise standards and to grow all our businesses which is why we have chosen to sponsor this Club Hub Event 2021 as well as the
award for the 'Biggest Growth of the Year' category.
To find out more about our brand, our clubs and our franchise opportunities, please visit our website: www.fun-fest.co.uk
Known as one of the UK's leading childcare insurance specialists, Morton Michel has over 56 years' experience in the Early Years sector!
Our Children's Activity Group policy is designed to provide expert insurance for children's activity providers. We recognise the importance that children's activity providers bring to a child's learning and development and the flexibility your business needs. The package also includes FREE Early Years training, legal expenses cover and loads of exclusive discounts and benefits as part of our ChildCare Club!
We are thrilled to have sponsored Tessa's Kids Club "Tessa's Jazz Hands" for the last five years and continue to insure thousands of other activities on Club Hub.
Digital Business of the Year
Hey – I'm Chris Ryu, Founder of Dorset Tech – an award winning social enterprise that proves that you can be successful without being greedy!
We build websites and apps (including Club Hub!) at discounted rates, then donate the profits to various community projects including our own kids clubs and our very own education centre.
Digital has allowed businesses of all sizes to compete on a level playing field. We've helped micro-businesses knock multi-nationals off the top spot on Google and platforms like Club Hub help build awareness for even the smallest of budgets.
Good luck to all entries
Razzamataz Theatre Schools was established in 2000 and offers exceptional training in dance, drama and singing for ages 6 months – 18 years, featuring Musical Theatre and Commercial styles, together with exciting opportunities to perform.
Many students have also gained professional performing work ranging from shows in the West End to leading acting roles on TV, thanks to our partnership with an established talent agency.
Razzamataz was created with a simple dream, to make performing arts available to all young people no matter their background or circumstances. We want to give children everywhere the chance to attend classes taught by experienced performers, who can give them the perfect introduction to the most wonderful industry in the world.
Independent Business of the Year
diddi dance run funky preschool dance classes across the UK. We are the only preschool dance program to explore 16 different dance styles from hip hop and salsa to jive and Bollywood. The company was founded 15 years ago by Anne-Marie Martin and ex professional dancer with over 25 years teaching experience. We are very proud to sponsor this award as can remember how hard it is to start your own business and want help and support all those starting out on their business journey.
DramEd Educators collaborate with parents, schools and nurseries to turn everyday learning into a magical adventure through performing arts.
Nurturing early development in maths, literacy and physical activity through our unique programmes all delivered by highly-skilled performers who teach, we give children a strong foundation in their education whilst maintaining an approach to learning that is joyful and explorative.
"From the Stage to the classroom"
Singing a nursery rhyme as if we are on XFactor to teaching a Toddle Fit™ class as if we are on Strictly come Dancing, DramEd educators are revolutionising the approach to teaching!
DramEd Ltd are proud sponsors of The Franchisee of the Year Award 2021. We are thrilled to be a part of Club Hub UK, a game changing community in the children's activity sector. Grace Francis, founder and 2020 finalist in The Woman of the Future Awards and Inspire Woman of the Year Awards for her work as a social entrepreneur is very much looking forward to presenting this award.
You can connect with us on:
Instagram: @DramEdUK 
Facebook: @DramEdUK
At Another Mother your business is our baby and we look after it like it's one of our own! We take care of the ABCs – Admin, Business support and Customer service – so you can get on with what you love.
We offer affordable, flexible outsourcing of your admin so that you're able to grow your business, put more pounds in your pocket and reclaim that precious work/life balance!
Supporting Club Hub, we see fantastic leadership demonstrated every day – in the people we work with, in those we regularly interact with and in those whom we admire from afar.
We're constantly inspired and awed by the business owners in children's activity market place and we're so proud to be sponsoring the Leader of the Year award for Club Hub's Awards 2021.
Non-Profit Business of the Year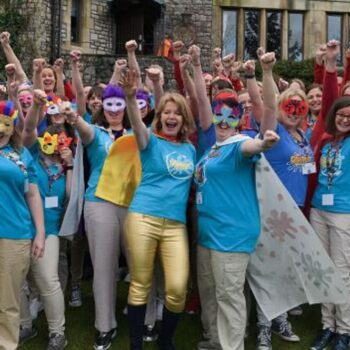 The Creation Station are thrilled to be headline sponsor of these great awards for the second year running.
It's important to us to collaborate with businesses that help us nurture and support families and children.
We know this year has been tough on all families and businesses. That's why we want to support just how AMAZING people have been to adapt, survive and in some case thrive.
We're celebrating eighteen year of inspiring imaginations this year. We're incredibly grateful to the 1.5 million children and adults who've enjoyed our creative arts and craft classes, clubs, workshops and parties. These are now available online and where possible, face to face to COVID secure measures.
There are a wide range of creative experiences to enjoy, these are now also available online.
Tiny Treasure keepsakes with your baby
Baby Discover classes with your 6 month to 15 month baby
Little Explorer classes with your 16 month to 5 year old
Create Club after school clubs and workshops
Arty Birthday Parties for all ages
Creative Crafters… due to demand, we get creative with us grow ups too!
For details of local award-winning creative activities, visit www.thecreationstation.co.uk
If you would love to make a difference through creative activities, find out about running your flexible and fun franchise. Discover more and download your Creation Station franchise information pack.
Community Business of the Year
Baby Squids is really excited to be sponsoring an award at the Club Hub Event 2021. The Community Business of the Year award is hugely important to me as I believe that supporting local businesses is a key focus for small businesses especially franchisees. I have found so many networks within the local community have supported me in an abundance of ways. We get involved with many local charities to ensure that we are supporting important local initiatives.
Baby Squids classes are all about having fun in the water, ensuring that parents and children enjoy bonding and experiencing the sensory world of water. From a really young age babies can move in the water the way they can't on dry land, we support natural development and curiosities with a huge range of activities, songs and exercises. Our Milestones programme combines our understanding of physical development, sensory experiences and social interaction to create classes which parents and children really love. My team of amazing teachers truly love what they do and our customers trust our honest and friendly approach.
I love coaching and working with people and am delighted to be able to do this with the Baby Squids Franchise programme.
If you are looking for more information about swimming lessons with us then check out www.babysquids.co.uk or if you would like more information about becoming a franchisee then get in touch on  https://www.babysquidsfranchise.co.uk/
Lockdown Achievement Award
Nigel Apperley is a serial entrepreneur in the internet industry, having had 3 successful exits so far, and having started his first business in 1999. Before setting up TRUSTist, Nigel was director of E-Commerce at Kwik-Fit where he wanted to see whether there was a corelation between collecting and using reviews and revenue.
Having tried all the major platforms he decided to trial Google reviews and in the trial lasting 3 months and involving 40 branches he saw an increase in revenue of 50%.  He took these findings and set up TRUSTist in August 2014.  Now TRUSTist works with many children's activities businesses to help them generate more businesses by using their reviews.