Meet our stars of 2020! Featuring the Club Hub Award Winners 2020
As we approach the entry date for our Club Hub Awards 2021 we thought we'd remind you of our amazing Club Hub Awards 2020 winners. These Club Hub Award winners were announced at our online event on the 16th of May 2020 and we can't wait to celebrate their achievements in style and in person at our Club Hub Event 2021 in Birmingham.
Denise Hutton-Gosney – Razzamataz Theatre Schools Ltd
Club Hub Award Winner of Lifetime Achievement Award 2020 Sponsored by Phonics Stars UK
Hi, I'm Denise, the MD and Founder of Razzamataz Theatre Schools, the Dragons' Den backed business with franchises all over the UK.
Razzamataz is focused on excellence in training and creating amazing opportunities for students. But more than that, it is about enriching the lives of young people across the UK through the power of performing arts. We are committed to the welfare and ongoing support of our students; offering many scholarships and even financial aid for students leaving us and continuing their professional training at college or university.
We truly believe in the power of performing and what it does to boost children's confidence and self-esteem. This is why we offer so many opportunities; from performances at local theatres to stepping out on stage in the West End, London's 02 and even Disneyland Paris.
One of the things we are most proud of, is the truly inclusive environment we have created. Children thrive with our support, nurturing and training and through our dedicated Principals and teachers, we have seen the transformative power that performing arts has on all children.
Over our 20-year history, we have given thousands of pounds to charity and this commitment is from everyone within our network. We have done many things to help raise money from skydiving, to Tough Mudder events to our own version of Strictly Come Dancing. This is as well as continuing to drive Razzamataz's own charity, Future Fund, which helps finance our students through further education and college.
Classes are for children from age of just six months to 18 and allow students to experience a range of performance styles from classic West End musical theatre to street dance, pop singing and acting for camera. Join one of our amazing schools and watch your child gain life skills, friends and a new sense of confidence.
Email: [email protected]
Telephone: +44 7821 122242
FB: @RTSLtd
Instagram: @razzschools
Twitter: @razzschools
You Tube: www.youtube.com/c/RazzamatazTheatreSchoolsLtd
LinkedIn: Razzamataz Theatre Schools
Website: www.razzamataz.co.uk/
---
Laura Cross – Inventors and Makers
Club Hub Award Winner of  Start-Up of the Year 2020 Sponsored by Daisy First Aid
Inventors & Makers was set up in 2019 by former teacher and curriculum specialist, Laura Cross. Laura wanted to help primary-aged children develop skills in engineering, technology and design to set them up for success in the future world that awaits them.
From the very first workshop for a small group of children in Laura's own house in February 2019, Inventors & Makers now runs holiday clubs, after-school clubs, STEM workshops in primary schools and small group sessions for home educated children. All of the workshops and classes teach specialist skills through practical hands-on activities and projects such as machine building, app design, video game design and entrepreneurship. There's also a big focus on creativity, problem solving and collaboration – skills shown to be vital for life and work in the 21st century.
Additionally, in early 2020, Inventors & Makers launched Little STEAMers for 2-5 year olds. Little STEAMers sessions teach science, technology, engineering, arts and maths (STEAM) subjects using fun, play-based techniques. They combine stories, singing, physical movement and demonstrations of STEAM activities to try together at home. Even the youngest children can focus on the 25- minute online portion because each session is so fast-paced and interactive. After the online session, parents are encouraged to continue with the activities together at home. It's a time for parents to inspire a love of learning through playing and exploring together.
You can speak to your school about getting an Inventors & Makers after-school club or STEM day, or join in from wherever you are with one of their online options.
Little STEAMers for 2-5 year olds now runs entirely online with weekly live or on-demand sessions. You can try out your first session for free or join the monthly membership club to play, explore and learn together with your child every week.
Follow on Facebook or Instagram for ideas and inspiration.
---
Lauren Prentice – Nutritional Ninjas
Club Hub Award Winner of Independent Business of the Year 2020 Sponsored by diddi dance 
Nutritional Ninjas's cookery classes focus on building the children's cookery skills while teaching them about what goes inside their food. Post lockdown children across the country are enjoying getting back to their Nutritional Ninjas classes.
Nutritional Ninjas has also released at home baking kits for children, a monthly subscription which delivers all of the dry ingredients children need to bake a tasty treat each month. With our baking boxes, children also get access to our online cookery classes, recipe cards and other goodies delivered to their doors each month. What's best of all, the first box is free!
www.nutritionalninjasbakebox.co.uk 
---
Jenni Dunman – Daisy First Aid
Club Hub Award Winner of Franchise of the Year 2020 Sponsored by Morton Michel Insurance 
Daisy First Aid is a multi-award winning paediatric first aid company offering fun and fear-free first aid courses designed specifically for parents and child carers.  Their aim is to educate people in a way that makes them feel both confident and comfortable in emergency situations. Offering two-hour sessions, which take place in attendees' homes, a local venue, online or via Zoom, the world of emergency first aid is explained and demonstrated in an engaging and simple way. Families and carers can interact and learn the important skills needed to save a life and treat the most common paediatric accidents and emergencies including seizures, CPR, choking, burns, bleeding, allergic reactions and much much more.
Daisy First Aid was founded in 2014 by former police officer Jenni Dunman, who experienced a vast number of first aid emergencies during her time in the force. The idea to launch Daisy First Aid came when her friend's daughter began to choke on a cookie. Thankfully, as an advanced first aider, Jenni knew exactly what to do and she quickly stepped in to successfully remove the blockage, and the little girl recovered with no injuries. It was then that Jenni realised first aid was not something that was typically offered to new parents, and many might not be aware of the basic skills needed to safely save their child's life.
In just six years Jenni has grown her business into a multi award-winning company (with franchises across the UK) and is a leading paediatric first aid expert in the UK. She dedicates a great deal of time volunteering at national charity events and has a huge celebrity client portfolio including Russell Brand, Christine Lampard and Rochelle and Marvin Humes.
Jenni Dunman comments, 'We teach paediatric first aid to thousands of parents each year. It's both rewarding and emotional when you get that call to say a parent saved their child's life thanks to Daisy First Aid. We are so passionate about the importance of first aid and absolutely love what we do. We are continuing our work in 2020 on an even bigger scale to educate more people on the simple steps than can so easily save a life.'
Classes with Daisy First Aid are just £25.00 per attendee and further information can be found on their website www.daisyfirstaid.com.
For franchise enquires please email [email protected]com or call 0203 742 9867.
---
Nicola Read and James Austin – Babbl Ltd
Club Hub Award Winner of Supplier of the Year 2020 Sponsored by Razzamataz Theatre School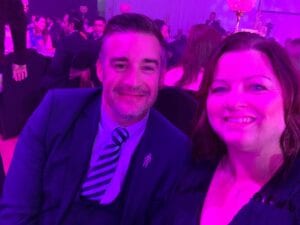 Babbl Social offer bespoke social media marketing packages to suit small to medium sized businesses, specialising in the childcare and kids club industry.
It's a well known fact that all businesses thrive with the benefit of a well executed social media presence. Babbl's owners, James and Nicola have a passion for championing small businesses, so wanted to develop a brand that offered quality social media marketing that was accessible to all.
Our clients benefit from an enhanced customer base, increased turnover and stronger brand presence when working with us, with one nursery increasing their turnover by 126% in just 5 months. We know what content works and receives great engagement, and how to sell your setting or club to prospective clients without them realising they're being sold to.
We love working with this industry and offer a variety of packages that range from completely done for you social, to a monthly content pack that you can upload yourself to whichever platforms you choose, all on rolling monthly packages so you're not tied in for lengthy periods. What sets us apart is our unrivalled level of customer service and excellent value for money. We'd love to chat with you and see if we could be a great support for your business.
Website: www.Babbl.co.uk
Facebook/Twitter/Instagram – @BabblSocial
Email: [email protected]
---
James Belbin – Tumble Tots Brighton
Club Hub Award Winner of Biggest Growth of the Year 2020 Sponsored by Fun Fest Holiday Club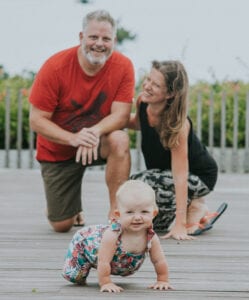 Tumble Tots Brighton is the most established children's activity provider in the local area.  Running for over 40 years across many of the towns and villages in the area, we are synonymous with preschool activity classes.  We currently have grandparents bringing their grandchildren to classes they attended 30 years previously with the parents.
We have taken a lot of time and effort to ensure our classes run smoothly and efficiently so the children have a consistent message in class.  Children's development starts prior to school and we believe that it's important for them to have a structure even as babies and preschoolers.
James and his partner who is a health visitor took their first child Tallulah to Tumble Tots in Hove, and when we heard it was closing in 2018 it was a no-brainer that we should take it over and keep it running.  We have re-trained and added to the core staff, changed a few venues/locations and timings and generally made it easier for parents to book and attend.  We feel our flexible customer service has led to the increase in attendances.
We now have over 350 members, growing all the time.
Since the national lockdown in the Spring, we have become a vital part of parent/child activity during these strange unprecedented times and our Covid-secure classes are proving to be extremely popular again, now that everyone understands the limitations placed on venues.
Tumble Tots is the ultimate pre-school parent and child activity for children from 6 months to 7 years (if you do Gymbobs).
Our progressive play programme is designed to develop your child's physical skills. Using bespoke colourful equipment, we focus on agility, balance, climbing and coordination, which enhances brain development and builds confidence.
Every session is supervised by our amazing specially trained staff, getting the best out of each child. Up until 3 years, grown-ups participate as well so that parents, carers and even grandparents can spend time with little ones as they develop.
---
Jackie & Claire – Positively Empowered Kids
Club Hub Award Winner of Non-Profit Business of the Year 2020 Sponsored by The Creation Station 
Positively Empowered Kids CIC is an award-winning social enterprise, founded in December 2019 by Jackie Wilson & Claire Clements, two Mum Entrepreneurs. They are on a mission to grow a global hub for families and schools to connect with wellbeing experts as an early intervention and prevention of mental health illness.  In May 2020 they won the Club Hub Award for 'Best not for profit business'.
They have a growing network of over 500 wellbeing experts to support children, parents, carers and educators through online events, workshops, programmes, interviews, podcasts and 1-1 sessions.  They have also launched their 'Family Empowerment Hub' providing free access to wellbeing content from experts to educate, empower and inspire the next generation and the ecosystem around them.
Jackie & Claire are passionate about empowering children, young people, parents, carers and educators to grow healthy thriving minds. By building their resilience, self-belief and potential as early as possible, means they will gain invaluable life skills to grow and maintain positive mental health and wellbeing, along with the ability to navigate adversity more effectively.
To get in touch email [email protected]com
FREE Family Empowerment Hub – www.positivelyempoweredkids.co.uk/hub
Facebook Community Page – www.facebook.com/PEKFamilies
Twitter – www.twitter.com/EmPowerKid2020
YouTube – Positively Empowered Kids – www.youtube.com/channel/UC6yhhZHkEwgUWBYARDAANiw
Instagram – www.instagram.com/positivelyempoweredkids/
Podcast available on Spotify, Google & Apple Podcasts and others
If you work with children and family mental health and wellbeing please ask to join – www.facebook.com/groups/2338120926436367
---
James Smith – Big Bold Youth CIC
Club Hub Award Winner of Digital Business of the Year 2020 Sponsored by Dorest Tech
Big Bold Youth CIC was founded in 2015 and established as a not-for-profit organisation in 2017 with a mission to provide affordable and accessible drama activities for young people across the UK. Since then, we have launched four performing arts schools with activities throughout the year for 6-18 year olds and have won two national awards in the process. Aside from our own performing arts schools, we also work with primary and secondary schools to deliver educational drama workshops on almost any theme, from Children's Mental Health Week to acting masterclasses.
Our activities are taught by teaching teams made up of working professional actors who are all trained in child protection, First Aid and Special Educational Needs & Disabilities (SEND). With this, we are able to accommodate all children, including those with SENDs such as autism, ADHD and cerebral palsy. Affordability is also a key value within the organisation, with our weekly classes starting at just £20 per month after a free trial and 50% off for all siblings. We also have our own bursary scheme to help support parents who are financially unable to commit to our activities.
With COVID-19 putting the world on hold, our activities went virtual between March-July. With a huge demand from parents to return to in-person activities, we have been able to put into place COVID-Secure measures recommended by the Government to protect our students. This includes social distancing of students and staff, temperature checks on entry, cleaning stations in all venues, limits on student numbers as well as clean downs between groups.
To find out more, or to book in for a free trial, visit www.bigboldyouth.org.uk, call us on 01908 086 015 or email [email protected].
Follow us on Facebook to stay up to date with all our activities: www.facebook.com/bigboldyouth.
---
Jess Mapp – Toddler Tennis
Club Hub Award Winner of Young Entrepreneur of the Year 2020 Sponsored by Mess Around UK 
Toddler Tennis is an award winning programme aimed at improving agility, balance and coordination of 2-5 year olds through tennis based activities. We use fun, age appropriate activities designed to teach the basics of tennis without the children even realise they are developing their skills!
The programme was set up 5 years ago with the sole intention of bringing specialist tots tennis into schools, nurseries, clubs and community halls. Our unique and exciting programme combines imagination and physical activity to take children on an extra-ordinary journey each week! It sees your children travel into space, go to the zoo and become pirates all with a tennis twist.
Our classes will allow your children to improve tennis specific skills, interact with other children, as well as develop important social, emotional and physical attributes.
We are now starting to see some of the children we taught 5 year ago, go on to play and develop a passion for sport, competition and continuing to enjoy tennis which is an amazing legacy for us!
If you are interested in our community lessons find your nearest session here >> www.toddlertennis.co.uk/venues/
If you would like us to deliver a free Toddler Tennis lesson in your nursery or school setting visit here >> www.toddlertennis.co.uk/nurseries/
We also do Birthday parties! >> www.toddlertennis.co.uk/toddler-tennis-birthday-party/​
Facebook: www.facebook.com/ToddlerTenn1s
---
Elizabeth Tweedale – Cypher Coding Limited
Club Hub Award Winner of Female Entrepreneur of the Year 2020 Sponsored by Smart Raspberry Cookery School 
Children love coding with Cypher – our creative themes, taught by passionate teachers, are tailored to include super fun, imaginative projects that engages children's innate curiosity and inventiveness, spurring them on to tackle challenges and devise solutions.
Some of our most popular recent themes explored the world's Oceans, Magic, Music and Global Greening through the power of code. This Oct half term our CURIOUSER & CURIOUSER camp will take students down a rabbit hole into a land of puzzles, mystery and imagination – join us and challenge the Red Queen in a crazy croquet game!
Fun aside, Cypher is committed to teaching coding to children (5-12+), equipping them with an understanding of computational thinking – getting kids ready for an increasingly digital future in a world with growing global societal challenges.
If you give children the tools to think computationally, it allows them to see a real-world problem, break it down and figure out how to fix it. It's an overarching skill they can apply to all subjects.
Our unique approach – taught at holiday camps and after-school clubs, both in-person and live online – ensures that the next generation is future ready.
Check out our excellent new website for details of our camps: www.cyphercoders.com/on-location
YouTube: www.youtube.com/channel/UCGmddWlMO0d8xFddoK7z1qA
Instagram: www.instagram.com/cyphercoders/?hl=en
Facebook: www.facebook.com/cyphercoders
---
Matthew Walker – Rugbytots East Staffordshire and Sutton Coldfield
Club Hub Award Winner of Franchisee of the Year 2020 Sponsored by DramEd Ltd 
Rugbytots is the World's favourite rugby play programme and here, in East Staffordshire and Sutton Coldfield, we have 20 classes delivering to over 200 children every weekend. We deliver sessions for children aged between 2 and 7 years of age, starting them on their rugby journey in the most amazing way.
Our fun, structured play sessions take children on a journey of sporting imagination with engaging and energetic coaches supporting them every step of the way whilst teaching how to catch, pass, kick, run with the ball and play as part of a team. Be prepared to run across the jungle, wade through the quicksand or sprint through Rugbytots Valley avoiding all the smoking boulders. Get ready to protect your egg, launch a missile or attack the pirates and seize the ship, all this of course, whilst trying to avoid the evil side lines!"
Our toddler classes offer a fantastic opportunity for you and your child to spend quality time together. The classes take place weekly and last 30 minutes. They are colourful, lively and a great experience for both children and parents! They incorporate fast-paced fun with learning. On top of the basic skills required for rugby, the activities teach your child about shapes, colours, numbers and counting.
For our 3.5 -5 and 5 – 7 classes, your little Rugbytot will be part of a dynamic 45-minute sports play session packed with fun activities that will develop their social and physical skills in a positive environment. Activities include a range of rugby-specific skills such as finding space, looking after the ball, scoring tries and running with the ball in two hands. The classes will also help improve their general agility and balancing skills.
Website: www.rugbytots.co.uk
Email: [email protected]
Call: 0345 313 0803.
Facebook: www.facebook.com/rugbytotseaststaffsandsuttoncoldfield/
Instagram: www.instagram.com/rugbytotseaststaffsandsutton/?hl=en
Twitter: @RugbytotsES_SC
---
Adele Clarke – AMC School of Dance
Club Hub Award Winner of Leader of the Year Award Sponsored by Another Mother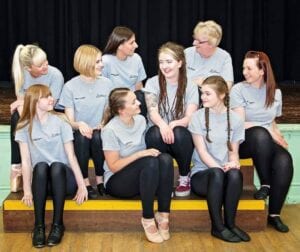 Based in Quorn and Rothley near Loughborough in Leicestershire, AMC School of Dance is an independent community dance school with over 220 members. We offer a range of dance classes suitable from walking to adults of all abilities.
AMC provides high quality classes that not only focus on teaching steps, routines and technique; but also self-development and expression. All classes are taught by experienced instructors and the school is thoroughly registered, DBS certified, first-aid traine, insured and covid-secure.  We're proud members of the Institute of Children's Activity Providers (ICAP) and our Principal, Adele, was named 'Leader of the Year' at the national Club Hub awards 2020.
What we offer can be split into 3 categories:
AMC Tots (walking to 5years)
Our Toddler Toes and PreSchool Pros classes will get you moving and teach your tiny dancer the first foundations of dance and ballet.
School of Dance classes (4.5years to adults)
Classes across Ballet, Tap, Modern and Jazz, Contemporary, Street and Ballet en pointe.
Adult Classes (all ages and abilities)
Low commitment, super fun, social Adult Ballet and Adult Tap classes.
AMC is committed to keeping dance enjoyable which is why we have a 'no-exams' ethic, use a wide range of music, and create a fun and friendly atmosphere. There are also plenty of opportunities to perform at our annual shows and display sessions.
Website: www.amcschoolofdance.co.uk 
Facebook: www.facebook.com/amcschoolofdance
Instagram: @danceamc
---
Mandy Pring – Supernastics
Club Hub Award Winner of Family Business of the Year Sponsored by Tumble Tots UK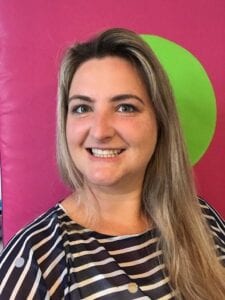 SUPERNASTICS is not your average Mini Gymnastics provider,
We like to warm up with Incy-Wincy Spider.
Then onto our hand apparatus what will it be?
We'll use them for role play, that's right (you'll see!).
Now drum roll please for the main event,
For the NEW piece of apparatus your coach will present.
From Balancing beams to High-bar with rings,
Each week you'll be faced with exciting new things.
Now everyone breathe, it's time to cool down.
You'll feel like the coolest superhero around!
Facebook: Supernastics
---
George Cooke – George's Swim Academy
Club Hub Award Winner of Male Entrepreneur of the Year sponsored by Little Wickets 
We are an independent business set up by George with wife Becky. George has been teaching children to swim since he was 16 and over those 12 years has built a fantastic reputation within the area of Solihull for his dedication to the sport and extremely patient, hugely fun and experienced approach to encouraging children to love swimming just as much as he does. George initially went into business on his own with his own small swim school running from school pools throughout the borough.
He earned himself an outstanding reputation for running a great swim programme and quickly became booked up but was limited by the run down school pools and limited availability of pool space. This is why we chose to set up George's Swim Academy Swim Centre which opened in January 2018, a purpose built swim centre to run his swim academy from. This was a massive leap with financing this and being personal guarantor, taking on a lease and going into the unknown of running and being responsible for your own facility. But we haven't looked back since, the centre allowed us to be creative and create an amazing facility for local families to learn to swim somewhere that was accessible for all, sparkling clean and super safe.
It allowed us to be imaginative with our swim programme and make massive improvements to ensure we offered the best experience possible for every parent and child that came through the doors and we still continue to learn lessons and improve what we do now.
www.facebook.com/georgesswimacademy
---
Arta Elsone – The Wilds Cafe
Club Hub Award Winner of Community Business of the Year Sponsored by Baby Squids
We are a small community cafe in New Barnet run by 2 parents (or rather a 2 year old and a 7 month old). Everything we do is done with community in mind.
We have a play area to let parents enjoy a coffee in peace, we run baby sing and sign classes, toddler ABC classes, adult workshops (paediatric first aid, brush pen, mindful drawing and clay workshops), we fundraise for local organizations and charities (we collected gifts for 30+ toddlers for Christmas, held a free Christmas day for the elderly who were alone, we collect recycling for Terracycle to fundraise for a childrens hospice, we collect donations for the homeless etc) and we run a small plastic free/reusable/refillable shop from the cafe to educate people on the impact of plastic waste.
This year we were awarded the title of Breastfeeding Friendly Cafe and will take place in the Medela "Big Breastfeeding Cafe" event.
We try to be so much more than just a cafe and give our hearts to the local community. And we keep busy!
---
We hope you enjoyed reading about our amazing Club Hub Award winners 2020.
If you have any questions about our Club Hub Awards or Event please get in touch with

[email protected]

 our Event Project Manager